Friday 18th December 2020 – Wednesday 23rd December 2020.
This is how contact tracing will work through school during the above dates. If your child who attends Linton Mead, tests positive for COVID-19 we ask that you immediately notify the school by emailing admin@lintonmead.grenwich.sch.uk with the subject line Positive Covid Case. We will then act immediately to liaise with health authorities and notify relevant contacts from that bubble that they must self-isolate for 10 days. In this event you would receive a call from a withheld number as staff will be working from home. This email account would not normally be monitored over the school holidays, however we will monitor for emails with this subject heading in order to liaise appropriately with health authorities and notify contacts. As usual all other enquiries will be addressed on the return to school.
Thursday 24th December 2020 – Sunday 3rd January 2021
Following government guidance, we will not be monitoring emails during this time. However, if you wish to inform us of a positive case we will pick this up on our return to school. It is vital that everyone continues with hand washing, social distancing and self-isolation measures in order to limit transmission. We appreciate that this is not easy, especially at this time of year, but we must continue to work together as a school community to keep everyone as safe and healthy as possible.
A little treat
The whole school has been working on a festive video to bring a smile to everyone's face. It really is what the doctor ordered right now. You will definitely be left with a warm fuzzy feeling after watching it! MERRY CHRISTMAS!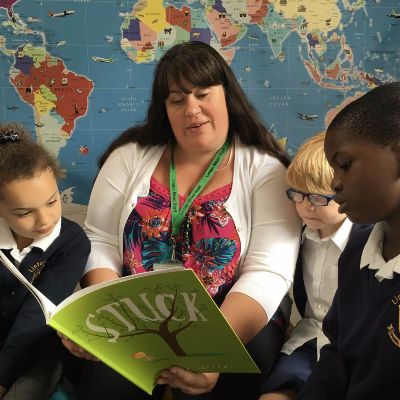 Welcome to Linton Mead Primary School
'You are determined that pupils will understand the potential of education to transform their chances in life'. Ofsted, 2016.
At Linton Mead, we are passionate about our children being resilient, creative thinking and active members of society. We are determined that all our children strive for their personal best academically, socially, emotionally and spiritually. As an innovative school, we are committed to research and development, always striving to facilitate exceptional teaching and learning in line with up to date research on how children learn best. Our children are polite, humorous and determined. Our teachers are creative, care about the success of every child and are always ready for a challenge. Our relationship with our community is of utmost importance to us and our Governing Body supports us in our educational vision for the children in our school. Visitors to our school are always struck by the warm welcome and exciting atmosphere in the school rooted in a love of learning. We hope you enjoy exploring our website. Please do not hesitate to get in touch with us if you have any questions or suggestions.
Miss Sarah Critchell Head Teacher