French
ML Vision Statement
Learning another language gives children the valuable opportunity to develop positive attitudes to and respect for languages and cultures other than their own. We aim to foster pupils' curiosity and enjoyment, enabling them to deepen their understanding and appreciation of both the world around them and their own language. Our children will be able to acquire and develop language skills, using what they have learned in their language learning journey in a range of contexts with increasing competence and confidence.
Please click here to view our French policy.
What makes a linguist at Linton Mead?
At Linton Mead, we believe that linguistic skills and the retention of vocabulary and phrases is crucial to learning a language. A good linguist is able to identify sounds and pronounce them correctly, can relay information quickly and accurately, is able to understand and apply grammar rules, knows how to use a dictionary or reference materials to good effect, can devise ways to memorize vocabulary and phrases and pays good attention to detail to ensure accuracy. We have designed the curriculum to ensure that children have the opportunity to build on prior knowledge and make links throughout their language learning.
Click here to access our skills ladder to find out the skills your child will be learning in each year group.
French coverage at Linton Mead
You can access the Primary National Curriculum for Languages by clicking this link.
Please click the link below to access the French Curriculum Overview where you can find out more about what your child will learn in French.
What has been happening in class so far this year?
KS1
Year 1 have learnt the numbers to 10 and how to say their name and age. They have learnt the words for places in Thamesmead. We have learnt the colours and the words for sea creatures. The children have made oil pastel pictures of the sea creatures and we have read 'Petit poisson blanc'.
In Year 2 we have learnt how to talk about how we travel to school, where we come from and our nationalities. We have compared weather and seasons in England and Nigeria. We have learnt the French for the different fruits, made a fruit salad and bought fruit at a market stall. We have talked about what fruit we like and dislike and what our favourite fruit is.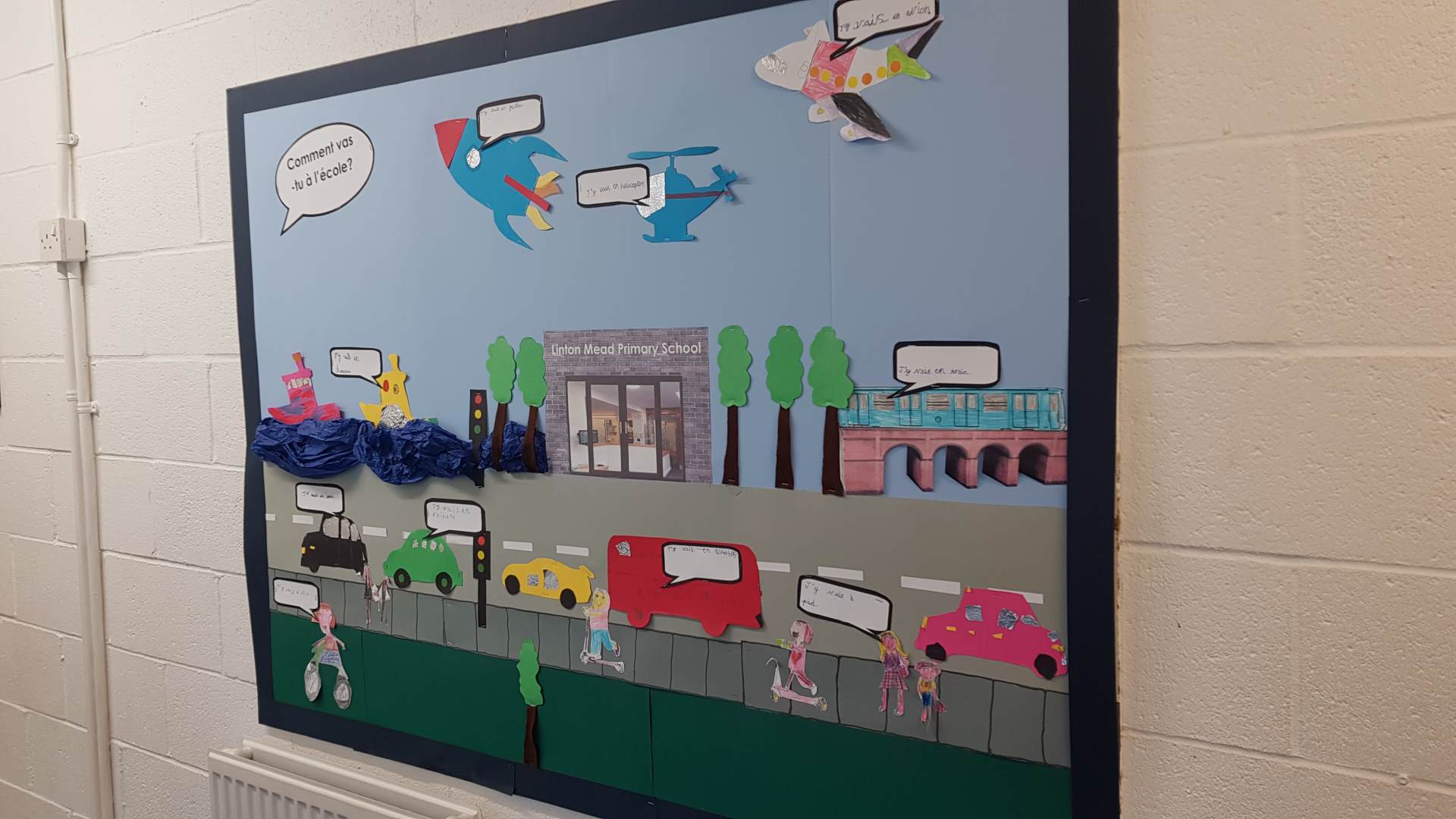 KS2
In Year 3 we have revised the topics of family, pets, colours and adjectival agreement in describing the colours of clothes.
In Year 4 we have learn the French for types of home and rooms in a home. We have learnt the words for places in a town and have written an estate agent's advert using all that we have learnt. We have also learnt how to ask for and give directions.
The Year 5s have been involved in a project with a school in Hélesmes in France. We have been revising how to talk about yourself, your family and pets. This term we have been learning about sports and hobbies and how to express opinions about them.
In Year 6 we started the year off by revising all we had previously learnt about talking about ourselves (name, age, birthday, where we live). We then started off our topic of WW2 evacuees by filling out an evacuee label and having an interview with a billeting officer. We read a text about evacuees and used our language detective skills and dictionaries to translate the text into English. We read a letter written by an evacuee to his parents and then wrote our own letters home. This term we have been learning how to tell the time in French.
How can you support your child in learning French at home?
Vocabulary
Use the vocabulary lists below to help support your child to develop their use of French vocabulary at home.
Videos
In order to help the children retain the French which they have learnt and to learn some new vocabulary and phrases I have put together some videos for the children. I have included a number of their favourite language games. I have started with Year 1 and will be working my way through to Year 6 so don't forget to check for new videos. Children are welcome to look at videos from other year groups to revise their French. Bon courage! (Good luck!)
Year 1 Colours

Year 1 Greetings - What is your name?

Year 1 Numbers - How old are you?

Year 1 Parts of the body

Year 1 Places in a town 1

Year 1 Places in a town 2

Year 1 Sea Creatures
| | |
| --- | --- |
| Year 2 School Uniform | Year 2 School uniform |
| Year 2 Transport | Year 2 Weather |
Year 3 Clothes

Year 3 School Uniform

Year 3 Vegetables
Year 4 Appearances

Year 4 Directions

Year 4 Places in a Town

Year 4 Rooms in a House

Year 4 Types of Home
Year 5 Hobbies

Year 5 Musical instruments

Year 5 Sports Which you Do

Year 5 Sports Which You Play

Year 5 When and How Often Do You Play?
| | |
| --- | --- |
| Year 6 Daily Routine | Year 6 Birthdays |
| Year 6 Environment | Year 6 School Rules |
| Year 6 School Subjects | Year 6 Telling the Time |
Suggested websites
Here are some suggested websites to support your child to continue to be a linguist at home. Click on the icon to take you directly to the website.
A website offering a complete set of French lessons and practise games for over 100 French topics.

This website has been developed to assist Primary teachers to develop and integrate an element of language teaching into their classroom. We hope you enjoy the activities.

Language learning and activity practise games.

Interactive language games for primary school children

Interactive games for primary aged children covering the National Curriculum.

Engaging interactive tasks and printable worksheets that introduce, reinforce and recycle vocabulary. Activities are self-paced and self-correcting and include recordings by native speakers.
Recommended Reading
Below are some texts to support your little linguists at home. Click on the image to find out more about them.
Songbooks